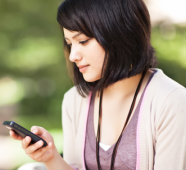 Mobile Banking
Where would we be without cell phones? It's hard to imagine not having the ability to call someone no matter where we are. Well, here's one more excellent reason to get on your cell phone.
With mobile banking, you get free access* to your online banking accounts anytime, and from anywhere. Get the latest balance information, transfer funds, and more.
Summary

We have provided a demo for you to get started.




Find us on the in the App Store or Google Play by searching for Old West FCU.




Look for answers in the FAQ for the mobile app.